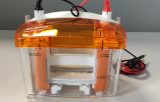 Protein electrophoresis system
NeoPRO Mini Vertical Protein Electrophoresis System is used to run pre-casting gel and hand-casting gel, at most 4 pieces of gels are available simultaneously. It is compatible with 1-D and 2-D electrophoresis application. The gel-casting frame and spacer glass plate make the activity of hand-casting gel simple and avoid the leakage.

Features :

Filler strip is fixed to glass plate to avoid leakage of gel.
Gel-making kit ensures the accurate aligning.
Excellent leakproofness.
Special comb does not stop gel polymerization. Built-in kit isolates gel from air.
Thickness and well marked comb is readable.
Equipped with multi-functional gel scraper.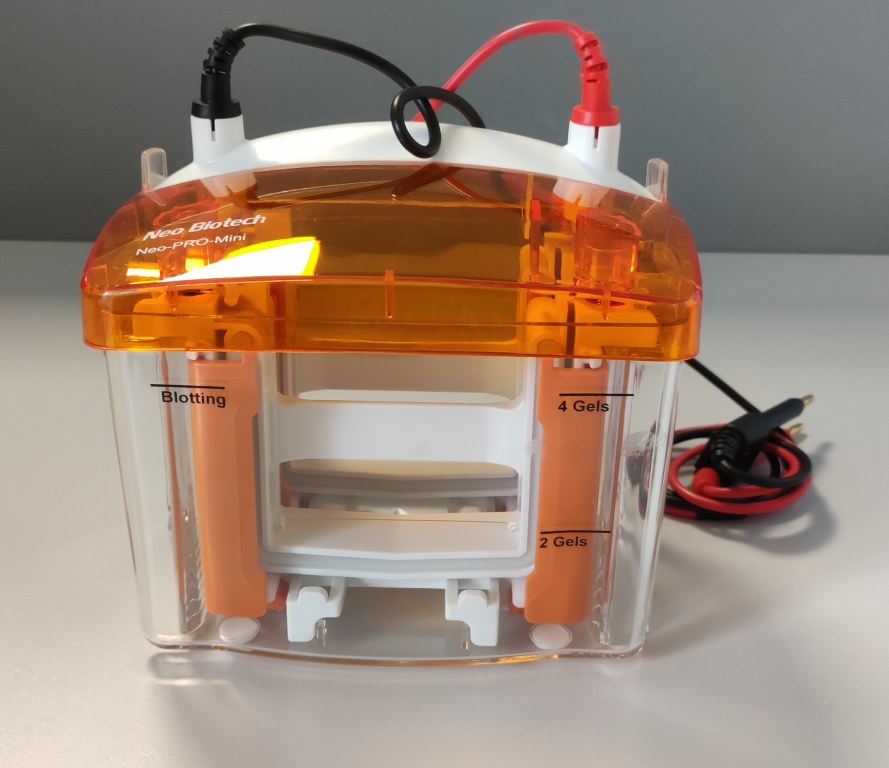 Specifications :
Type of gels
Precast and handcast gels
Handcast gels
Cast using NeoPRO mini spacer plates
Glass plate size

Short plate : 10.0 x 73 cm
Spacer plate : 10.0 x 83 cm
Comb specification
1.0mm: 10, 15 wells; 0.75mm: 10, 15 wells; 1.5mm: 10, 15 wells
Total buffer volume
2 gels : 700 ml / 4 gels : 1000 ml
The NeoPRO mini vertical protein electrophoresis system (NB-12-8001) included :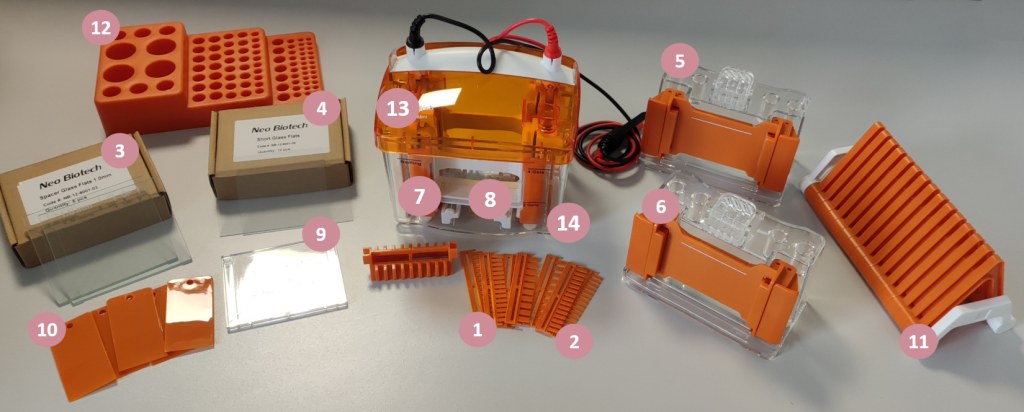 Product code
Description
Qty
1
NB-12-8001-01
Comb (1.0mm, 10 wells)
5 units
2
NB-12-8001-02
Comb (1.0mm, 15 wells)
5 units
3
NB-12-8001-03
Spacer glass plate (1.0mm)
5 units
4
NB-12-8001-04
Short Glass plate
10 units
5
NB-12-8001-05
Gel base
4 units
6
NB-12-8001-06
Gel casting frame
4 units
NB-12-8001-07
Sealing gasket
5 units
7
NB-12-8001-08
Electrode Head electrophoresis core
1 unit
8
NB-12-8001-09
Mushroom Head Electrophoresis Core
1 unit
9
NB-12-8001-10
Buffer dam
1 unit
10
NB-12-8001-11
Gel shovel
5 units
11
NB-12-8001-12
Support for glass plate
1 unit
12
NB-12-8001-13
Multi-purpose support for centrifugal tube
1 unit
13
NB-12-8001-14
Upper lid (with cable)
1 unit
14
NB-12-8001-15
Low lid - cell bottom
1 unit
Search result : 34 product found
Refine your search :
Equipment

25

Inhibitor/Antagonist/Agonist

5

Buffers and reagents

3

pcr products

1