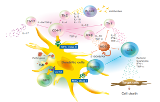 SARS-CoV-2 - Tetramers for research and development
Tetramers are a very useful tool in research to understand and study immune system responses to SARS-CoV-2 during COVID-19. We offer peptides and kits to create your own tetramers.

TCRs recognize and bind to complexes composed of MHC molecules and specific peptides expressed on the surface of antigen-presenting cells. While it was once believed that antigen-specific T cells could be detected using soluble MHC/peptide complexes, monomeric MHC/peptide complexes proved to be impractical due to their instability and low affinity to the TCR. To overcome this difficulty, MHC/peptide monomers are biotinylated and tetramerized with streptavidin to maintain stable binding to multiple TCR, enabling MHC/peptide tetramers to be used as detection tools. MHC tetramers are labeled with fluorescent molecules including phycoerythrin (PE), allophycocyanin (APC), or Brilliant Violet™ 421 (BV421) and thus allow detection of antigen-specific T cells by flow cytometry or fluorescence microscopy.