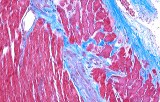 Special stains for connective tissues
Connective tissue (TC) is one of four types of animal biological tissue that supports, binds, or distinguishes different types of tissues and organs from the body. It originates in the mesoderm, at the time of gastrulation, during embryonic development. The other three types are epithelium, muscle tissue, and nerve tissue. The connective tissue finds its place between other tissues of the body, like those of the nervous system. Connective tissue includes the outer membranes that surround the encephalon and spinal cord, both of which establish the central nervous system.
Connective tissue cells are fibroblasts, adipocytes, macrophages, mast cells and leucocytes.
Special connective tissue stains are used to highlight connective fibers. The connective fibers include collagen, reticulin and elastic fibers. Collagen fibers are the most abundant of the 3. They are found throughout the body except in the central nervous system.