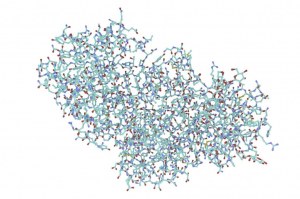 Lectins
Lectins are carbohydrate-binding proteins, macromolecules highly specific for sugar fragments. Lectins perform recognition at the cellular and molecular level and play many roles in biological recognition phenomena involving cells, carbohydrates and proteins. Lectins also facilitate the attachment and binding of bacteria and viruses to their intended targets.
Lectins have many different biological functions in animals, from regulating cell adhesion to glycoprotein synthesis and controlling protein levels in the blood.
Lectins are also known to play an important role in the immune system. In the innate immune system, lectins such as MBL, the mannose-binding lectin, help mediate first-line defense against pathogenic microorganisms. Other lectins of the immune system are thought to play a role in self and non-self discrimination and they probably modulate inflammatory and autoreactive processes.
Intelectins (type X lectins) have been shown to bind to microbial glycans and may also function in the innate immune system. Lectins may be involved in pattern recognition and pathogen elimination in innate immunity of vertebrates, including fish.